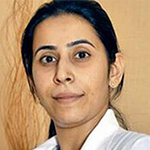 Speciality: Obstetrics & Gynaecology
Degree : Senior Consultant M.D.
She is the Consultant Fertility specialist at The Kiran  Infertility  Centre.,Hyderbad and visiting consultant at KIC branches in India  and has had exensive training at The Cleveland Clinic, USA which is one of the leading Fertility training institutes in the world in the field of Assisted Reproduction.
She is responsible for Ovarian stimulation protocols, follicular monitoring, Oocyte donor and gestational carrier  preparation and day to day obstetric and Gynaecological counseling and care of our patients.
She is passionate about her work and obsessed with following evidence based protocols to optimise IVF results for all our patients.
Contact: 6736 0951